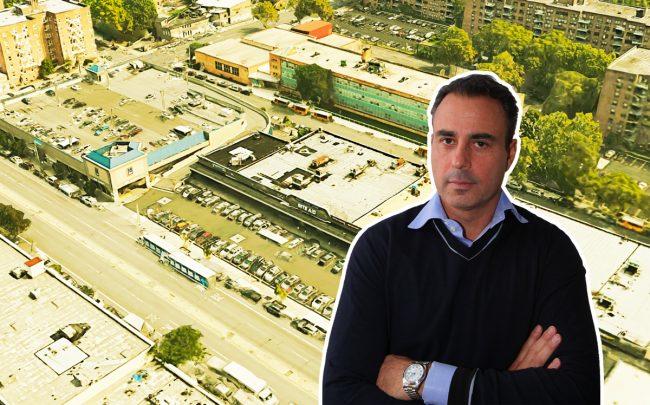 Ashkenazy Acquisition Corp. picked up a shopping center in Sheepshead Bay from the LeFrak Organization for more than $38 million.
Ben Ashkenazy and Michael Alpert's investment firm paid $38.25 million to buy the block-sized property that runs along Nostrand Avenue between avenues Y and Z, The Real Deal has learned.
The LeFrak Organization has owned the property, which has an address of 3779-3861 Nostrand Avenue, since at least the 1970s, according to property records.
Tenants at the 81,000-square-foot center include the German grocery chain Aldi and Blink Fitness.
Thomas Donovan, Eugene Kim, Tommy Lin and Robert Rappa of B6 Real Estate Advisors negotiated the deal on behalf of the seller.
The shopping center was the subject of some neighborhood hand-wringing when, in 2011, the Pathmark grocery store that anchored the property shut down. Pathmark's parent company, A&P, said at the time that it was one of the company's worst-performing stores.
The loss of one of the neighborhood's affordable grocery options put community members up in arms.
Working with then-Brooklyn Borough President Marty Markowitz, LeFrak brought in ALDI two years later in 2013 with a 10-year lease. The store reportedly spans shy of 20,000 square feet.
Sheepshead Bay is currently in the midst of a condominium development-boom, though its retail offerings haven't necessarily kept pace with the kinds of trendy residential developments that are going up.
Much of the neighborhood is dominated by older, outdated retail, and there's demand for new amenities and destinations, area players told TRD last year.
Ashkenazy, meanwhile, is one of the large retail investors trying to figure out the changing market. The company owns the Douglaston Plaza Shopping Center in Queens where hardware chain Lowe's Home Improvement had planned to open a massive, 110,000-square-foot store last year. Lowe's announced in November that it will be closing 51 stores, though Ashkenazy may have dodged a bullet as the Douglaston location didn't appear on the list of locations to get the axe.
The landlord also spent the better part of 2018 grappling with Barneys over the rent at its flagship store at 660 Madison Avenue. In August, a city arbitrator gave the landlord the thumbs up to double the store's annual rent to $30 million.
Ashkenazy, along with partners the Sahara Group and Kingdom Holding, sold the Plaza Hotel to the Qatar-owned Katara Hospitality last year for $600 million.